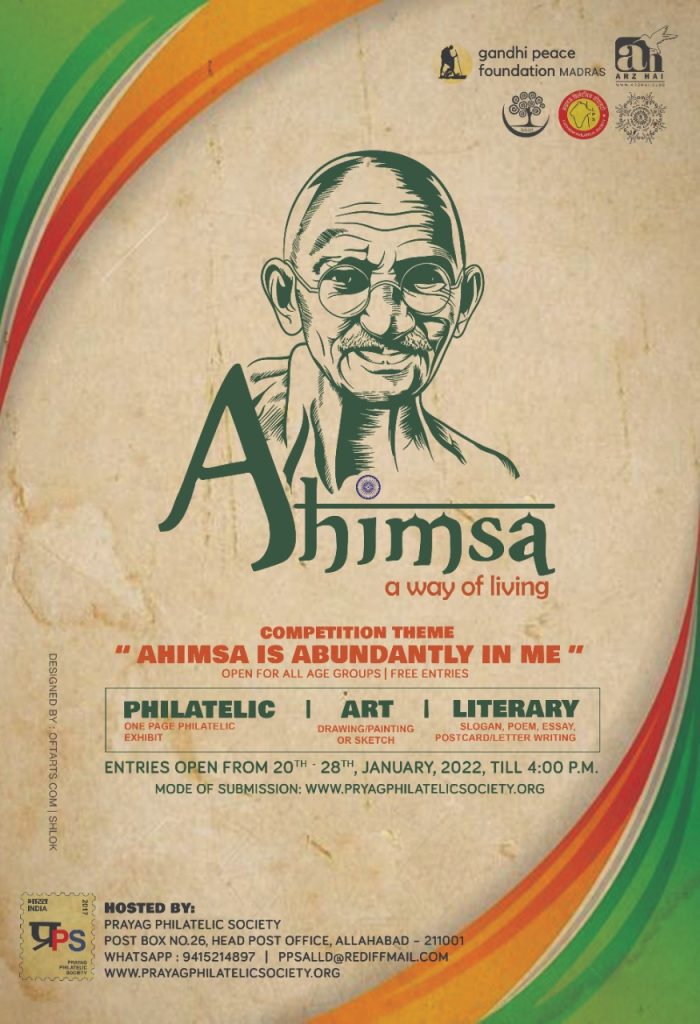 On the occasion of Martyr's Day – 30th January 2022, the Society is organizing an event to remember Mahatma Gandhi and pay its tribute to him by encouraging his thoughts and beliefs in Ahimsa. In order to promote his principles of Ahimsa, the society is organizing the few events and participation is invited for the following:
1. Philatelic: One Page Philatelic Exhibit
2. Literary: Slogan, Poem, Essay or Postcard/Letter Writing
3. Art: Drawing/Painting or Sketch
Title/Theme for events:
"Ahimsa is abundantly in me"
Last Date to receive entries: Friday 28th January 2022 by 4:00p.m.
Mode of Submission: www.pryagphilatelicsociety.org
Register Now
Entry Fee: Free
Results will be declared by 14th February 2022 by 5:00 p.m. through the website www.prayagphilatelicsociety.org
Award Ceremony: Date, Venue and Time to be notified later
Certificate of participation will be awarded to all the participants and Memento & Certificate of Merit to the winners in each category.
Participation in each category is open for all age groups and one can participate in all the categories i.e. Philatelic, Literary and Art.
Original ideas are encouraged in the events.
After the entries are received, they will be displayed on the website by 30.1.2022 for viewing by all.
We are thankful and grateful to Col Akhil Kumar, a member of the Society, who conceived the idea and motivated us to initiate the event.